When I decided to run a competiton for this years Face of KAptured Moments, I put a call out for pregnant ladies who would be interested in having 4 Photo shoots, Maternity, Newborn, Sitter and 1 year both outdoor and in my photography studio based in Pomeroy Co. Tyrone.  To follow the first year of their babies life.  Saoirse Mullhall was nominated by so many friends and family.  I had lovely messages about how selfless she was, how fantastic she was to friends and family.  That she would help anyone with anything.  When I launched the competition between the finalists Saoirses friends and family voted in their hundreds for her.  

Last week I got together with Saoirse and Colm and their daughter Aoibhe-Grace at the beautiful Drum Manor forest park.  I had chosen a stunning green velvet off the shoulder dress.  This is one of the dresses I hold in my client closet, which are free to use with Maternity session, Though you are free to wear your own clothes if you prefer.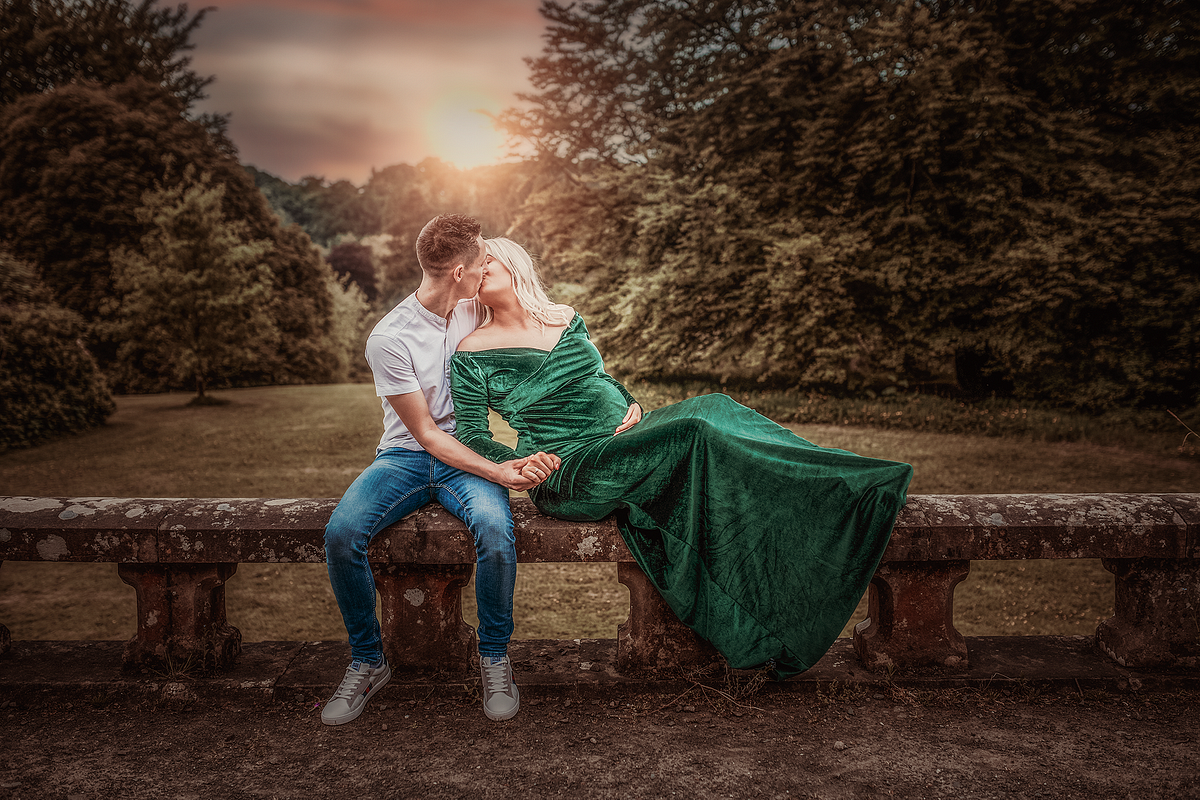 I wanted This session to be very personal and feel very romantic.  We opted for an evening shoot.  Which is my personal favourite, the lighting the closer to sunset you get is magical.  When I posted this photo as the sneak Peak from the session they told me how much they loved it.  Its dramantic and romantic.  The location and scenery is breathtaking.  You can see the connection between these 2 as well.  Childhood sweethearts making a perfect life together.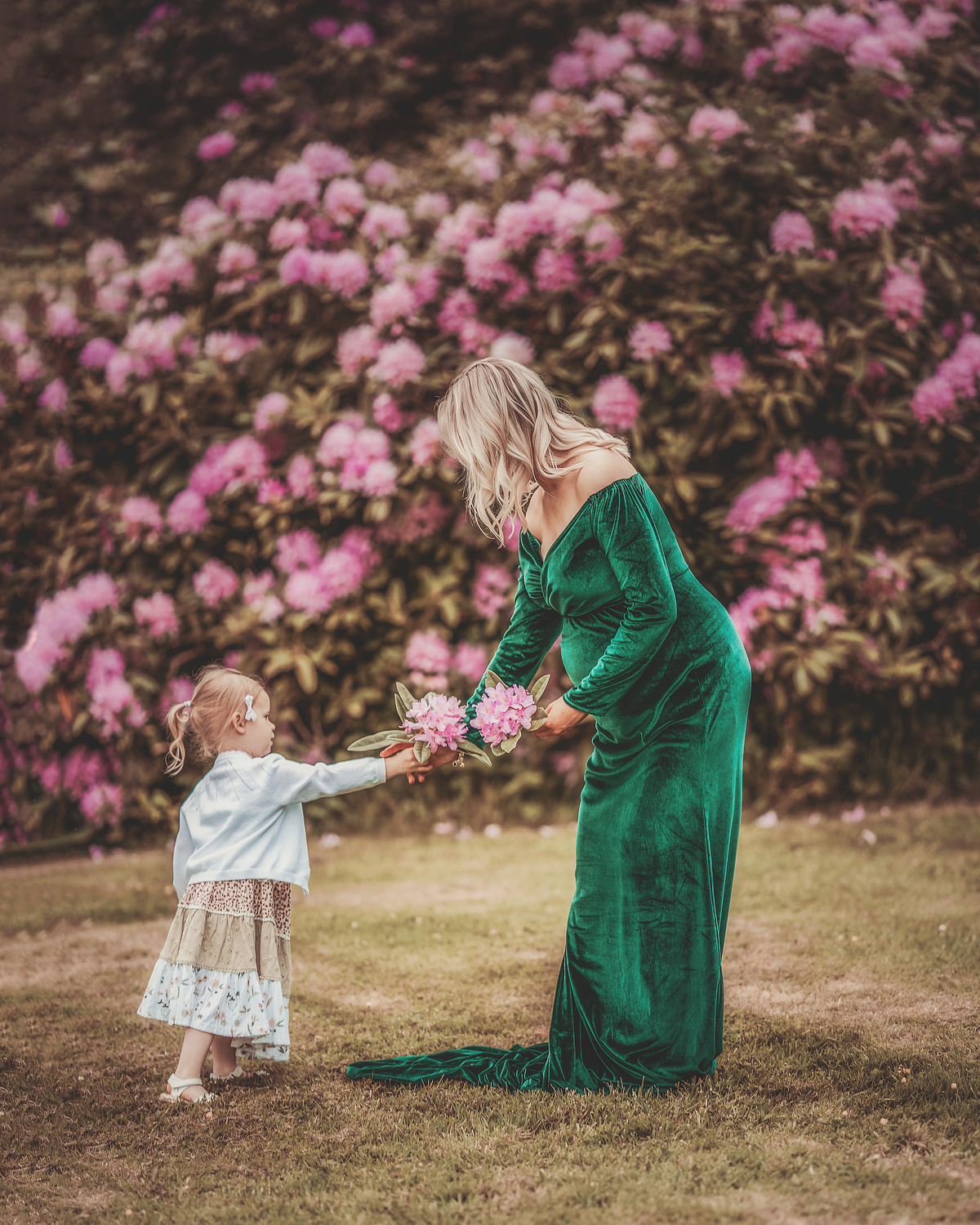 This shot was a spur of the moment beautiful offering from Aoibhe-Grace to her mum.  One flower for mummy and one for her new baby.  I love it and I think that it will be a favouite of mums for years to come.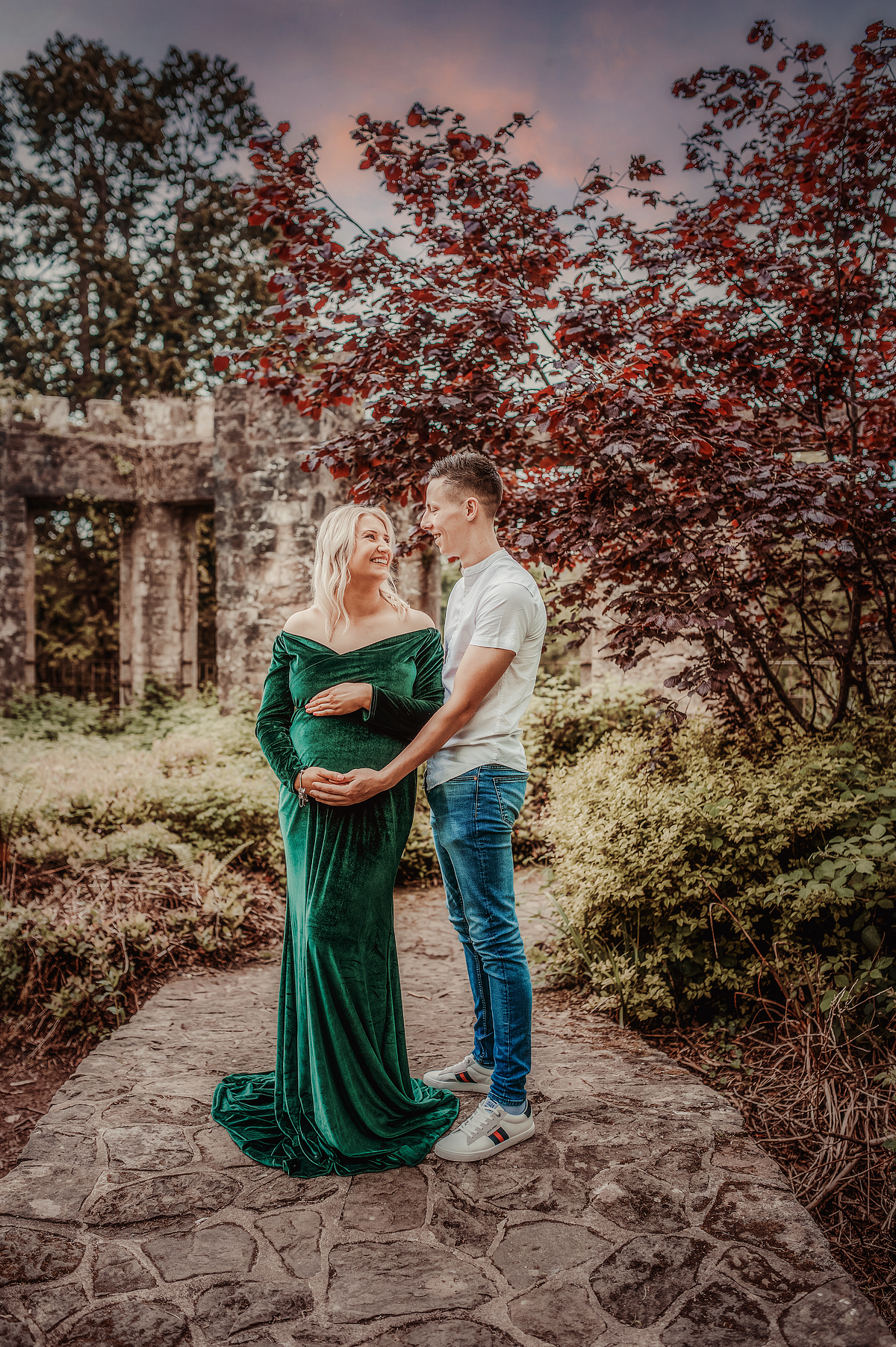 For me, the most important part of photography is showing special connection in families.  This photograph shows another lovely connection between our couple,  you can tell by looking at it that they are a couple who have fun together.  Real and true smiles are so much better than anything you will ever get that's forced.   When setting up my photography business I was advised to select 3 words to describe my photography and to make that my mantra.  The words I chose were: Fun, Authentic and relaxed.  I bring this to every session I do, I want my clients to have fun and enjoy the experience, I want to get them laughing, because it will bring Authentic smiles and laughs and show true connections.  Finally I will do my best to put you at ease.  Not everyone feels comfortable in-front of a camera.  The majority of my clients will tell me that they feel uncomfortable getting their picture taken.  I always tell them that one of the biggest parts of my job is to have them relax and let go.  I'll never expect you to be a model and know how to pose from the first shot.  But you will find after the first 5 clicks you are already relaxing.  I pride myself on being approachable, friendly and someone you can feel comfortable and confident with.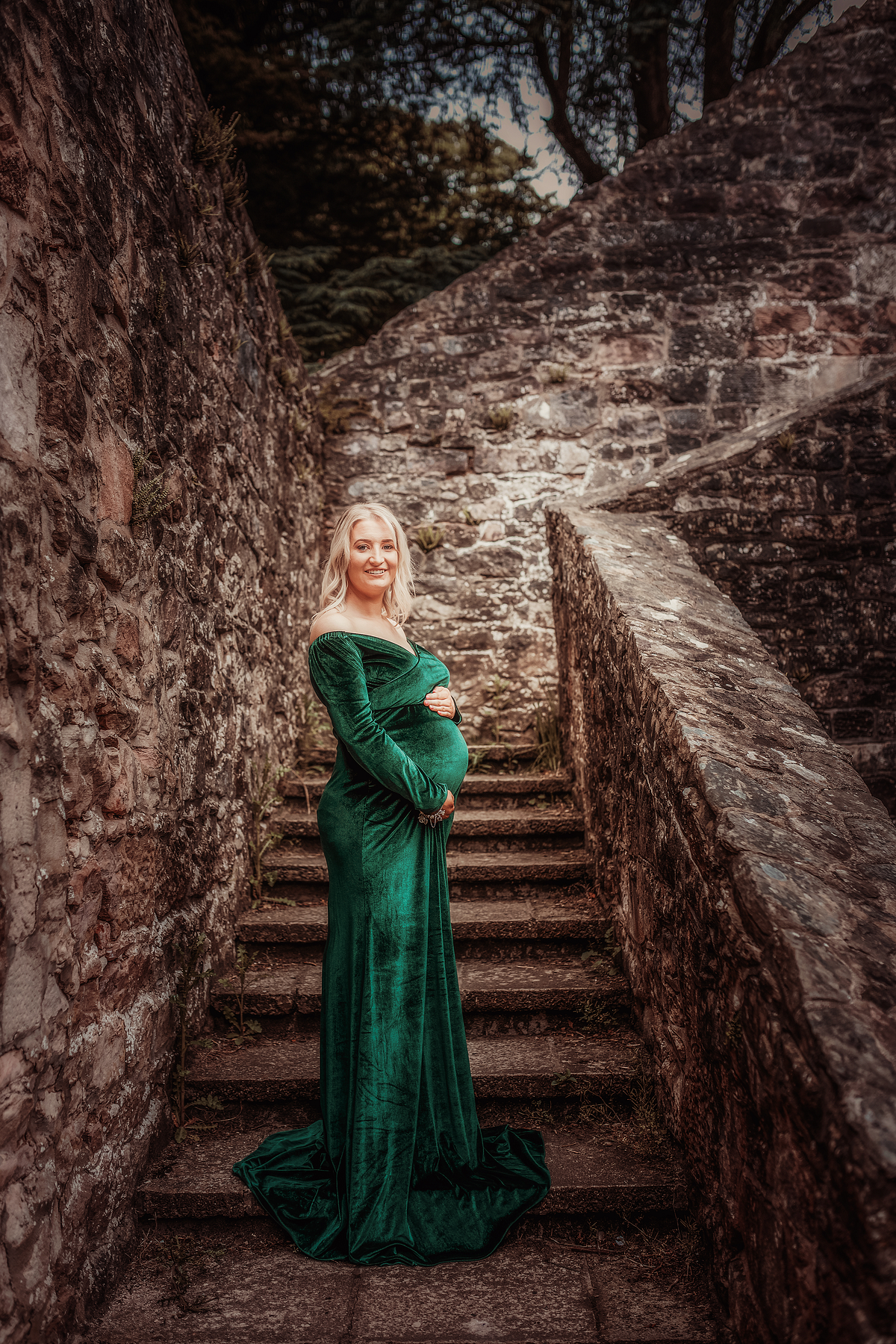 When I talked to Saoirse about finding her a dress, I knew that I wanted her as a Celtic goddess because we were going to shoot in Drum Manor with the Stone ruins.  This dress lived up to all my expectations.  She looks strong confident and amazing!  She is the holder of new life and it radiates through her.  
I have had 4 pregnancies and I really wish that I had allowed more photographs to be taken of me while I was pregnant.  I was self-conscious about weight I had gained and how my body had changed, but looking back now I really wish I had documented my pregnancies with a photoshoot.  They aren't as popular in Northern Ireland as they are in other parts of the world.  I wish they were, they are a wonderful session to shoot, both outdoor and in studio.